Struggling to get a reliable level signal in the steam drum?
Endress+Hauser brings you higher plant availability with safer and better measurement solutions
If the water level is too low, overheating of the water wall tubes may cause serious accidents, resulting in expensive repairs, downtime, and injury or death to personnel. If the level is too high, boiler water carries over into the superheater or turbine may cause damage resulting in extensive maintenance costs or outages of the turbine or boiler. Controlling the water level requires sophisticated techniques as the level measurement must be accurate and transmitted to the control system.
Benefits
The level sensor can be operated for 24+ hours without supervision as part of a limiting device. Adhere to the conditions as per EN 12952-7, section 7.3.9 in this regard. 72-hour operation or operation without supervision are thus also covered.

The certificate can be used in all European member states to presume conformity of the safety accessory with the Pressure Equipment Directive (PED), if completed with an appropriate actuator (e.g. contactor, safety valve)
Differential pressure (dp) level measurement can be tricky
Plant personnel are quite familiar with dp transmitters as they have a long operation history. On the other hand, they do have boundaries. The output of a conventional dp transmitter has inaccuracies mainly caused by changes of static pressure and water density in each leg, and in the steam and water inside the drum. Water at high pressures experience density changes, independent of those caused by temperature variations.
Higher availability with an innovative alternative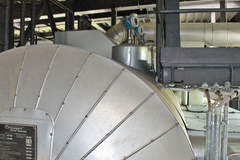 This is why we offer integrated guided-wave radar transmitters (Levelflex) to you. These transmitters ensure higher plant availability by offering more level-detection capabilities, even under harsh conditions.
Our process engineer customers greatly appreciate this because of:
Compact design

Easy installation and operation

Better reliability measurements and higher performance

Fast response time

Improved control, analysis and communication
Not a simple transmitter but a complete bypass solution
Even further, we offer the Levelflex as a complete quality bypass solution which reduces your costs of approx. 25% when designing a new plant or modernizing it. As the Levelflex guided radar device can also be pre-mounted in the bypass and preconfigured when delivered, you can minimize the loading and mounting costs. At the end, the maintenance of the Levelflex guided radar is practically maintenance-free as it has no mechanical moving parts and therefore reduces your plant's downtime
Available certificates: EN12952-11:2007 and EN12953-9:2007
The Levelflex M as well as the new Levelflex FMP 54 are TÜV certified according to the two standards EN 12952 and EN 12953. This means that constructor of steam vessels can install the Levelflex in a redundant combination (1oo2 or 2oo3) as a low water level (LWL) or high water level (HWL) protection together with either the Universal Transmitter with Control Function RMA42 or a safety PLC.
Downloads
Cost savings - bypass level measurement solution

Displacement systems have been used in the past for level measurement in the bypass. Guided radar devices (TDR) provide an optimum solution for such measuring tasks and significant cost benefits.