Cleaning injector Chemoclean CYR10B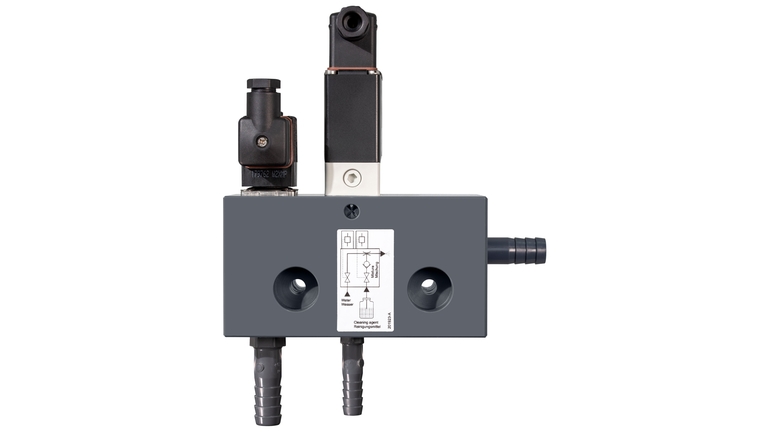 Cleaning injector for spray cleaning and retractable assemblies
The injector CYR10B enables the realization of fully automated sensor cleaning systems including cleanser dosing. Dosing is realized by motive water which generates a negative pressure and thus allows the suction of a liquid without an extra dosing pump. The cleaning control is carried out via the Chemoclean functionality of the Liquiline CM44 transmitters and allows individually configurable cleaning or rinsing cycles.

Hitra izbira
Izberite med predlaganimi možnostmi
Individualna konfiguracija
Nadaljujte z izbiranjem med vsemi možnostmi
Prednosti

Easy handling of rinsing media thanks to concentrate dosing using motive water (vacuum pump).

Adjustable dosing ratio of motive water and cleaning concentrate.

Realization of flushing and cleaning cycles without additional dosing pump.

High chemical...
Področje uporabe

The CYR10B cleaning injector is a spray cleaning system for pH / ORP sensors as well as
oxygen and turbidity sensors.
Dokumenti / Priročniki / Softver
Chemoclean CYR10B

Cleaning injector for universal use with dosing function for cleaning
sensors

Technical Information (TI)

Chemoclean CYR10B

Cleaning injector for spray cleaning and retractable assemblies

Operating Instruction (BA)

ChemoClean

Product Code: CYR10B-
Declaration Number: EC_00790_01.19

EU Declaration

nemščina

,

angleščina

,

fr
Pribor / Nadomestni deli
Kit CYR10B valve block PVC

Kit CYR10B water valve 110V

Kit CYR10B cleaner valve 110V

Kit CYR10B water valve 230V

Kit CYR10B cleaner valve 230V

Kit CYR10B water valve 24V

Kit CYR10B cleaner valve 24V

Kit CYR10B Wearing parts water valve

Kit CYR10B Wearing parts check valve

Kit CYR10B Hose connection set

Kit CYR10B connector plug

Kit strainer element for water filter

Hose connection set PVDF, G 1/4"-DN 12

for porge chamber for CPA450

Hose connection set 1.4404, G 1/4"/DN12

Hose connection set PVDF G 1/4"/D16

Hose connection set 1.4404, G 1/4"/D16