Calibration tool for conductivity sensors
Conducal CLY421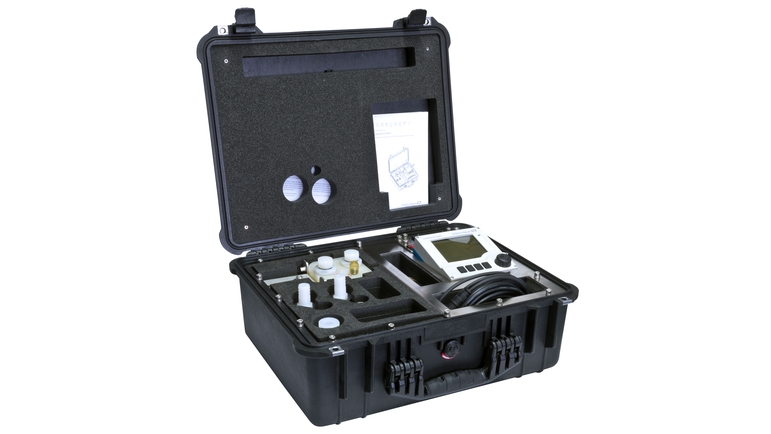 Portable reference calibration for ultrapure water applications
Conducal CLY421 is the ideal calibration tool for conductivity measuring devices in ultrapure water applications. It offers certified comparison measurement and full traceability of your instruments' verification and calibration. Furthermore, the tool is fully compliant with the requirements of the pharmaceutical industry. Conducal comes in a robust, portable hard-top case with battery-powered Liquiline transmitter, allowing flexible calibration in the field.
Enostavni produkti

Lahka izbira, vgradnja in uporaba
Tehnična odličnost
Preprostost
Standardni produkti

Zanesljivi, robustni, nezahtevni za vzdrževanje
Tehnična odličnost
Preprostost
Vrhunski produkti

Visoko funkcionalni in praktični
Tehnična odličnost
Preprostost
Specialni produkti

Zasnovani za posebej zahtevne aplikacije
Tehnična odličnost
Preprostost
FLEX izbira
Tehnična odličnost
Preprostost

Segment Fundamental

Zadostite svojim osnovnim merilnim potrebam

Tehnična odličnost

Preprostost

Segment Lean

Obvladajte ključne procese na preprost način

Tehnična odličnost

Preprostost

Segment Extended

Optimirajte procese z inovativnimi tehnologijami

Tehnična odličnost

Preprostost

Segment Xpert

Imejte pod nadzorom najzahtevnejše aplikacije

Tehnična odličnost

Preprostost
Hitra izbira
Izberite med predlaganimi možnostmi
Individualna konfiguracija
Nadaljujte z izbiranjem med vsemi možnostmi
Prednosti

Factory calibration traceable to standard reference material by NIST and DAkkS

Factory calibration of Conducal according to ASTM D-5391

Flow assembly with adjusting and monitoring functions according to ASTM D-5391

Accurate calibration by direct use of...
Področje uporabe

Conducal CLY421 is a portable calibration and verification tool for quality-relevant conductivity measurements. It is suitable for all ultrapure water applications up to 20 µS/cm:

Life science industry

Food industry

Semiconductor industry

Its...
Dokumenti / Priročniki / Softver
Pribor / Nadomestni deli
For further repair or spare part inquiries

please contact your local

E+H Sales- and serviceorganisation

Kit CLY421: Adapter Threaded/Clamp/Barb

Kit CLY421: Adapter G1"/Clamp

Kit CLY421: 3x Blind Cap + 10x O-Ring

Kit CLY421: 3x Clamp Gasket EPDM DN20

Kit CLY421: 4x Protection Covers Bulgin

Kit CLY421: Charger for Li-Ion Battery

Flowfit CYA21

Stainless steel flow-through assembly for mounting on analytical panels. Construction of analytical panels for applications within powerplants and the (petro-) chemical industry among others. Fits for applications up to 100oC at 16 bar. Robust stainless steel assembly; fit for applications at higher pressure and temperature rates; perfect for bypass installations; inclusive mounting kit.
Zgodbe o uspehu
Advanced bioprocess control

From time consuming sample analysis to real-time monitoring of critical parameters in fermentation processes thanks to complete solutions from hardware to development and analytical services.

Compliance made easy

The automated phosphate monitoring with Liquiline System CA80PH helps the food company Pasfrost ensure the compliance with the strict limit values for its industrial wastewater.
Water monitoring saves lives

Water is increasingly being considered a valuable product in most countries. Therefore, the acceptance for water wastage is continuously decreasing and the need to control the water quality is rising.