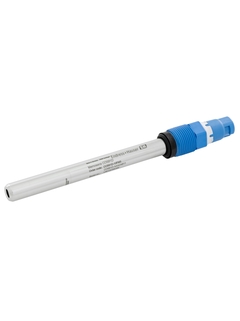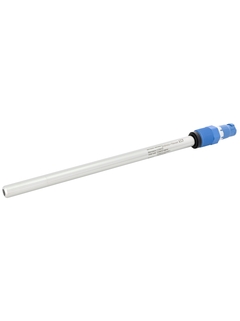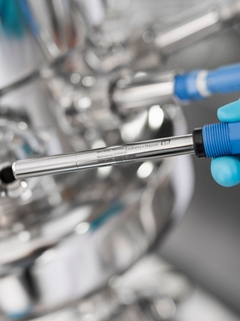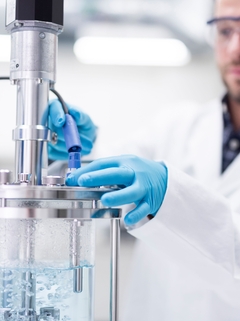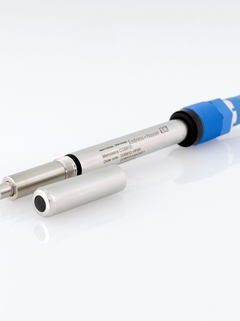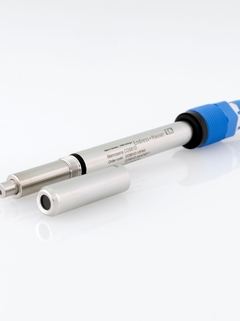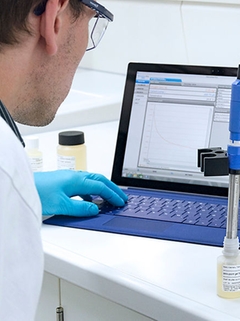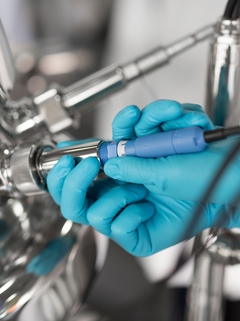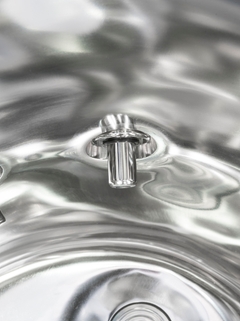 Lastnosti na dlani
Measurement range

0.004 to 30 mg/l
0.05 to 330 %SAT
0.1 to 700 hPa

Process temperature

0 to 140 °C
(32 to 284 °F)

Process pressure

0.02 to 13 bar abs
(0 to 190 psi)
Področje uporabe
Memosens COS81D is the ideal oxygen sensor for hygienic applications such as fermentation and inertization. Its precise, long-term stable measurements and its permanent self-monitoring ensure the most reliable measured values to help meet your desired product quality and optimize product yield. Memosens COS81D is not the latest Memosens generation. To get information on the new Memosens COS81E sensor with extended functionality, click here.
Memosens COS81D measures oxygen in applications with high demands to sterility and hygiene such as:
Fermentation

Inertization

Drinking water production
With its international explosion protection approvals, such as ATEX and IECEx, the Memosens COS81D oxygen sensor is suitable for hazardous area use.
A pharma certificate of compliance with sensor serial number specified is available.
Prednosti
Hygienic design according to EHEDG and ASME BPE (incl. USP class VI and FDA compliance) avoids cross-contamination and fulfills all GMP and GLP requirements.

The sensor can be used in process applications as well as benchtop fermenters. Providing you with 100% measuring consistency from the first lab trials to the final scaled-up process and your process lab.

More process up-time than ever before thanks to sensor exchange within seconds: precalibrate the sensor in your lab and then swap it into your process with plug & play. It does not need polarization time and is immediately ready to measure.

A built-in reference LED compensates the ageing of the measuring LED. This ensures reliable measured values throughout your entire batch production.

Reduce your maintenance effort: Memosens COS81D does not have a difficult-to-handle electrolyte or sensitive membrane. Just exchange the sensor cap, perform a calibration and you are done.

Memosens COS81D stores important sensor and process data in its intelligent head. The Memobase Plus CYZ71D sensor management software can use all this data to document the complete sensor lifetime offering full traceability with minimal paperwork.

Suitable for CIP/SIP and autoclaving and approved for hazardous area use.
Segment Extended
Vrhunski produkti

Visoko funkcionalni in praktični
Tehnična odličnost
Preprostost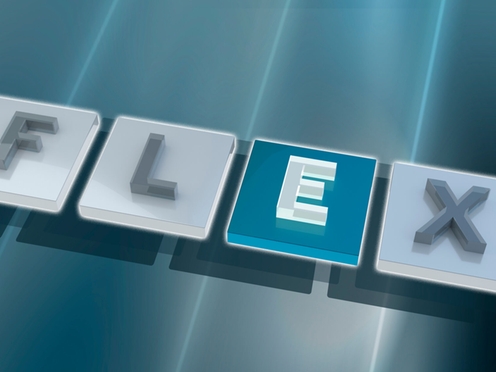 Enostavni produkti

Lahka izbira, vgradnja in uporaba
Tehnična odličnost
Preprostost
Standardni produkti

Zanesljivi, robustni, nezahtevni za vzdrževanje
Tehnična odličnost
Preprostost
Vrhunski produkti

Visoko funkcionalni in praktični
Tehnična odličnost
Preprostost
Specialni produkti

Zasnovani za posebej zahtevne aplikacije
Tehnična odličnost
Preprostost
FLEX izbira
Tehnična odličnost
Preprostost

Segment Fundamental

Zadostite svojim osnovnim merilnim potrebam

Tehnična odličnost

Preprostost

Segment Lean

Obvladajte ključne procese na preprost način

Tehnična odličnost

Preprostost

Segment Extended

Optimirajte procese z inovativnimi tehnologijami

Tehnična odličnost

Preprostost

Segment Xpert

Imejte pod nadzorom najzahtevnejše aplikacije

Tehnična odličnost

Preprostost
Loading alternative products
Zgodbe o uspehu
Simplified quality control in distilleries

Waldbrand Destillerie uses Teqwave to continuously measure the alcohol concentration. The device can compensate for cross-influences and can be adapted to beverage-specific properties

Advanced bioprocess control

From time consuming sample analysis to real-time monitoring of critical parameters in fermentation processes thanks to complete solutions from hardware to development and analytical services.

Boiler water monitoring made easy

With the SWAS Compact Panel, the continuous monitoring of quality parameters such as pH and conductivity in cheese production can be automated and simplified.

Compliance made easy

The automated phosphate monitoring with Liquiline System CA80PH helps the food company Pasfrost ensure the compliance with the strict limit values for its industrial wastewater.