Compact Steam/Water Analysis System (SWAS)
Compact SWAS panel solution for a reliable and safe monitoring of water and steam circuits
SWAS Compact is a solution for industrial steam generators that efficiently monitors the water quality and fits neatly into your system, requiring very little space. It comprises sample preparation, a cation exchanger and a Liquiline transmitter to which pH, conductivity and oxygen sensors are connected. The SWAS Compact minimizes corrosion and scaling and thus expensive repairs and replacements of entire plant parts. It prevents production loss due to plant downtime.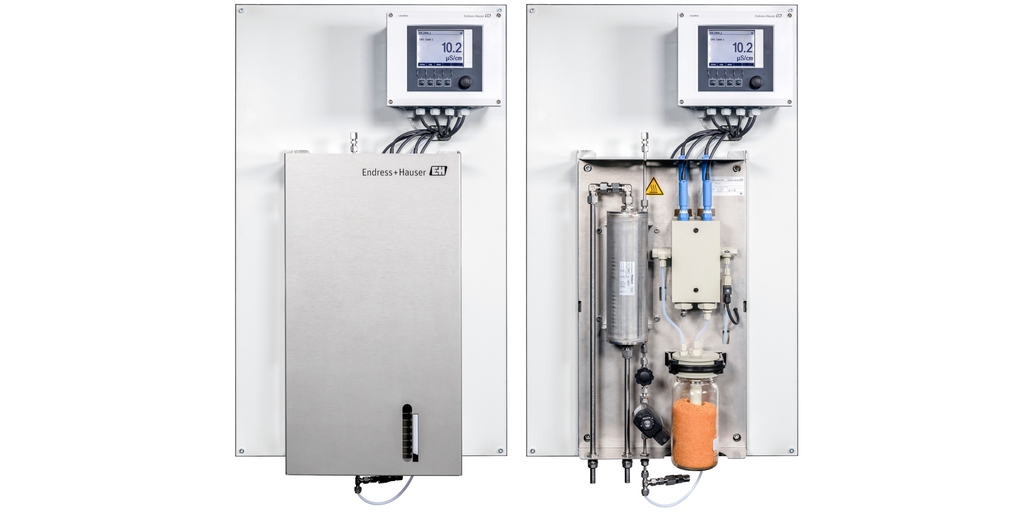 Your benefits
SWAS Compact delivers reliable and precise measurement results even with low sample volumes

It protects boilers and heat exchangers from corrosion and deposit buildup

Easily integrated into existing water and steam circuits thanks to its compact design and turnkey delivery

Up to eight sensors can be connected to the multichannel Liquiline transmitter
Easy maintenance, short downtimes
SWAS Compact can be equipped with Liquiline multiparameter transmitters. These allow the use of pre-calibrated sensors with Memosens technology, remarkably minimizing work time inside your process. The integrated pH value calculation enables precise pH regulation while calculation of the remaining service life of the cation exchanger allows for predictive maintenance. Maximum process safety is ensured by an automatic system shutdown if the sample temperature is too high.
Measure all critical parameters
pH/ORP

Dissolved oxygen

Conductivity (total, cationic and differential)
Field of applications
The SWAS Compact monitors the steam and water quality in many industries and their utilities:
Power & Energy

Food & Beverage

Chemicals

Mining, Minerals & Metals
Typical applications are:
Boiler feed water

Steam and condensate analysis

Boiler water
Merilne točke
4-channel transmitter
Liquiline CM444

Liquiline CM444 combines best-in-class performance with clever simplicity: fast system integration, great ease-of-use and a convenient expandability save you time and money every day.

Digital conductivity sensor
Condumax CLS15D

The Condumax CLS15D sensor with Memosens is the allrounder for conductivity measurement in the low measuring ranges. Benefit from low maintenance, a long operating life and best value for money.

Digital oxygen sensor
Oxymax COS22D

The Oxymax COS22D safeguards your products, process and plant equipment from oxygen influences. It's reliable and stable measurement helps you to better monitor and control your applications.

Digital pH sensor
Orbisint CPS11D


The glass electrode with Memosens technology is the digital all-rounder for process and environmental technology. Benefit from low maintenance, a long operating life and best value for money.
Enostavni produkti

Lahka izbira, vgradnja in uporaba
Tehnična odličnost
Preprostost
Standardni produkti

Zanesljivi, robustni, nezahtevni za vzdrževanje
Tehnična odličnost
Preprostost
Vrhunski produkti

Visoko funkcionalni in praktični
Tehnična odličnost
Preprostost
Specialni produkti

Zasnovani za posebej zahtevne aplikacije
Tehnična odličnost
Preprostost
FLEX izbira
Tehnična odličnost
Preprostost

Segment Fundamental

Zadostite svojim osnovnim merilnim potrebam

Tehnična odličnost

Preprostost

Segment Lean

Obvladajte ključne procese na preprost način

Tehnična odličnost

Preprostost

Segment Extended

Optimirajte procese z inovativnimi tehnologijami

Tehnična odličnost

Preprostost

Segment Xpert

Imejte pod nadzorom najzahtevnejše aplikacije

Tehnična odličnost

Preprostost
Zgodbe o uspehu
Keeping the turbine running

Heizkraftwerk Zwickau Süd GmbH (HKWZS) has built a new biomass power plant to supply the city of Zwickau. The plant was equipped with state-of-the-art analytical solution SWAS.
Sorodna ponudba
Analytical monitoring stations

From custom-made measuring cabinets and containers to fully air-conditioned measuring stations, our solutions contain all the parameters and sample preparations you need.