Flow assembly
Flowfit CPA240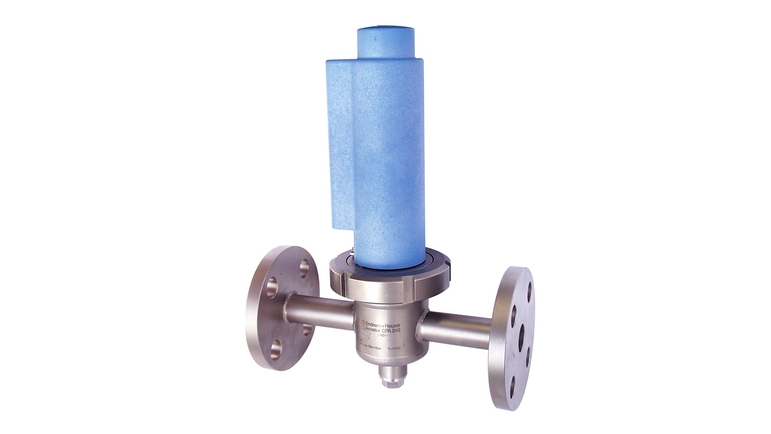 Durable assembly for the chemical, petrochemical, and power industries
The Flowfit CPA240 flow assembly is designed for all demanding applications where high temperatures and pressures are involved. With its various connections, Flowfit flexibly adapts to your process offering space for three sensors. Simple installation and removal of the sensors save time for maintenance and recalibration.
Hitra izbira
Izberite med predlaganimi možnostmi
Individualna konfiguracija
Nadaljujte z izbiranjem med vsemi možnostmi
Prednosti

Simple installation and removal of the electrode holder (e.g. for calibration)

Flexible connection to the process by means of various connectors and installation versions

Less condensation due to a Goretex filter

Reduces installation effort by providing...
Področje uporabe

Flowfit CPA240 is intended to be used in pipes in:


Chemical industry


Petrochemical industry


Power plants and waste incinerating plants


Extractive metallurgy and metal processing


Drinking water treatment plants


It is suitable for use with pressures of...
Dokumenti / Priročniki / Softver
Pribor / Nadomestni deli
Nr

11

Bestellnummer

50089409

Viton-O-Ring-Set for CPA240-2

(PVDF version)

Nr

11

Bestellnummer

50089411

Fluoraz-O-Ring-Set for CPA240-2

(PVDF version)

Nr

11

Bestellnummer

50089410

Chemraz-O-Ring-Set for CPA240-2

(PVDF version)

Nr

11

Bestellnummer

50089408

EPDM-O-Ring-Set for CPA240-2

(PVDF version)

Nr

12

Bestellnummer

50089412

EPDM-O-Ring-Set for CPA240-3

(stainless steel version)

Nr

12

Bestellnummer

50089414

Chemraz-O-Ring-Set for CPA240-3

(stainless steel version)

Nr

12

Bestellnummer

50089413

Viton-O-Ring-Set for CPA240-3

(stainless steel version)

Nr

12

Bestellnummer

50089415

Fluoraz-O-Ring-Set for CPA240-3

(stainless steel version)

Nr

4

Bestellnummer

51501168

Kit CPA140/240-2 holder Tantal/Viton

Nr

4

Bestellnummer

51501169

Kit CPA140/240-2 holder Tantal/Chemraz

Nr

4

Bestellnummer

51501165

Kit CPA140/240-2 holder Hateloy/Chemraz

Nr

4

Bestellnummer

51501166

Kit CPA140/240-2 holder Hasteloy/Fluoraz

Nr

4

Bestellnummer

51501163

Kit CPA140/240-2 holder Hasteloy/EPDM

Nr

4

Bestellnummer

51501164

Kit CPA140/240-2 holder Hasteloy/Viton

Nr

4

Bestellnummer

51501167

Kit CPA140/240-2 holder Tantal/EPDM

Nr

4

Bestellnummer

51501170

Kit CPA140/240-2 holder Tantal/Fluoraz

Kit CPA140/240-2 holder w/o PAL/EPDM

Kit CPA140/240-2 holder w/o PAL/Viton

Kit CPA140/240-2 holder w/o PAL/Chemraz

Kit CPA140/240-2 holder w/o PAL/Fluoraz

Nr

7

Bestellnummer

51501160

Kit CPA140/240-2 PM Tantal/Chemraz

Nr

7

Bestellnummer

51501159

Kit CPA140/240-2 PM Tantal/Viton

Nr

7

Bestellnummer

51501161

Kit CPA140/240-2 PM Tantal/Fluoraz

Nr

7

Bestellnummer

51501157

Kit CPA140/240-2 PM Hastelloy/Fluoraz

Nr

7

Bestellnummer

51501155

Kit CPA140/240-2 PM Hastelloy/Viton

Nr

7

Bestellnummer

51501154

Kit CPA140/240-2 PM Hastelloy/EPDM

Nr

7

Bestellnummer

51501158

Kit CPA140/240-2 PM Tantal/EPDM

Nr

7

Bestellnummer

51501156

Kit CPA140/240-2 PM Hastelloy/Chemraz

Nr

8

Bestellnummer

51501153

Kit CPA140/240 dummy plug Fluoraz

Nr

8

Bestellnummer

51501152

Kit CPA140/240 dummy plug Chemraz

Nr

8

Bestellnummer

51501151

Kit CPA140/240 dummy plug Viton

Nr

8

Bestellnummer

51501149

Kit CXA140/240 dummy plug EPDM

Nr

9

Bestellnummer

51501195

Kit CPA240-2 drain screw PVDF/EPDM

Nr

9

Bestellnummer

51501196

Kit CPA240-2 drain screw PVDF/Viton

Nr

9

Bestellnummer

51501198

Kit CPA240-2 drain screw PVDF/Fluoraz

Nr

9

Bestellnummer

51501197

Kit CPA240-2 drain screw PVDF/Chemraz

Nr

5

Bestellnummer

51501176

Kit CPA240-30 holder 1.4404/Viton

Nr

5

Bestellnummer

51501177

Kit CPA240-30 holder 1.4404/Chemraz

Nr

5

Bestellnummer

51501178

Kit CPA240-30 holder 1.4404/Fluoraz

Nr

5

Bestellnummer

51501175

Kit CPA240-30 holder 1.4404/EPDM

Nr

10

Bestellnummer

51501199

Kit CPA240-30 drain screw 1.4404/EPDM

Nr

10

Bestellnummer

51501201

Kit CPA240-30 drain screw 1.4404/Chermaz

Nr

10

Bestellnummer

51501202

Kit CPA240-30 drain screw 1.4404/Fluoraz

Nr

10

Bestellnummer

51501200

Kit CPA240-30 drain screw 1.4404/Viton