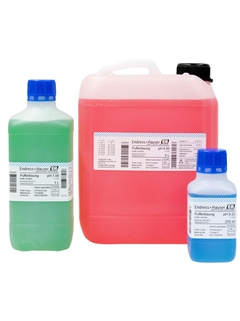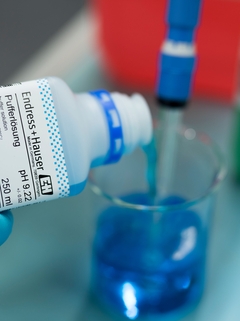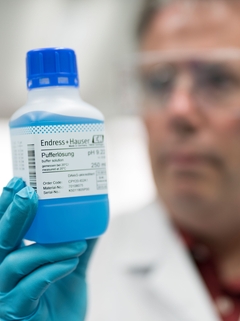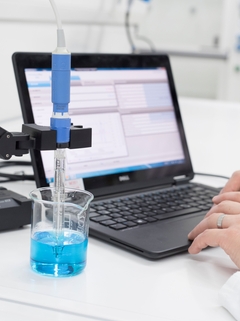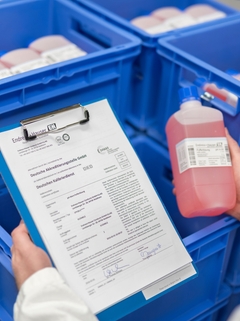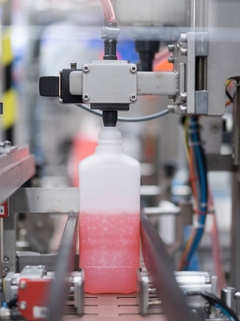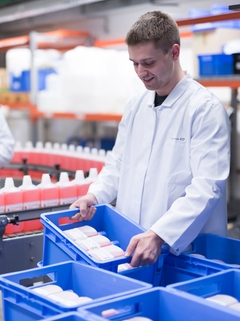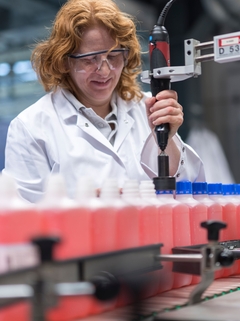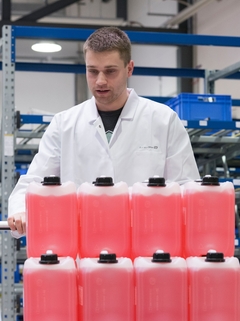 Področje uporabe
The high-quality CPY20 buffers guarantee pH calibration to ultimate precision. They are produced and bottled in the permanent calibration laboratory that has successfully passed the tough DAkkS accreditation (German accreditation authority). The buffers are specified with an accuracy rating of +/-0.02 pH. They are traceable to NIST and PTB standard reference material and contain only FDA-listed preservatives. Using CPY20 you will achieve correct values that you can rely on.
CPY20 pH buffer solutions are used for calibration and adjustment of pH electrodes in all industries. They are optimized for all routine and high precision sensor adjustments in the process as well as in the lab.
The calibration and adjustment can be conducted with:
Memobase Plus CYZ71D software

All transmitters of the Liquiline series

All conventional pH transmitters on the market
For an overview over all available buffers and bottle sizes, please click on 'Features and specifications'.
Prednosti
The high accuracy and reproducibility of the buffers help you optimize the pH value in your process and maximize the yield and quality of your product.

CPY20 pH buffers are traceable to standard reference material of NIST (USA) and PTB (Germany) and fulfill the stringent documentation requirements of Life Sciences.

All used preservatives are FDA-listed for highest product safety in FDA-supervised processes.

Temperature curves of CPY20 pH buffers are pre-programmed in all Liquiline series transmitters to simplify sensor calibration and adjustment, reducing your maintenance effort.

The easily accessible, identical certificates of all CPY20 pH buffers simplify your audit trails and improve the reliability of your SOPs.

Detailed, individual buffer analysis certificate available in the Download Area. Enter your lot number in the "Text Search" field and click the "Start Search" button.
Get this product as part of a bundle
Enostavni produkti

Lahka izbira, vgradnja in uporaba
Tehnična odličnost
Preprostost
Standardni produkti

Zanesljivi, robustni, nezahtevni za vzdrževanje
Tehnična odličnost
Preprostost
Vrhunski produkti

Visoko funkcionalni in praktični
Tehnična odličnost
Preprostost
Specialni produkti

Zasnovani za posebej zahtevne aplikacije
Tehnična odličnost
Preprostost
FLEX izbira
Tehnična odličnost
Preprostost

Segment Fundamental

Zadostite svojim osnovnim merilnim potrebam

Tehnična odličnost

Preprostost

Segment Lean

Obvladajte ključne procese na preprost način

Tehnična odličnost

Preprostost

Segment Extended

Optimirajte procese z inovativnimi tehnologijami

Tehnična odličnost

Preprostost

Segment Xpert

Imejte pod nadzorom najzahtevnejše aplikacije

Tehnična odličnost

Preprostost
Zgodbe o uspehu
Smart vertical farming in big cities

Intuitive pH and conductivity measurement in smart vertical farming plants to meet quality requirements and ensure comprehensive monitoring of processes.

Toilet flushing with a fresh sea breeze

Using seawater to flush toilets can save a lot of drinking water. To ensure a constant water supply, the sensors used must function reliably to meet the water quality objectives (WQO).
Morda vas zanima tudi
Accredited pH buffer production

Our fully accredited calibration laboratory for pH buffers meets the highest customer requirements and guarantees the reliability of your pH measurements.