iTHERM QuickNeck - Taking the right turn
Divisible neck with quick release for easy and safe access to temperature inserts
One simple twist of the wrist for dismounting and easy re-installation! Our patented thermometer extension neck iTHERM QuickNeck with quick release enables tool-free and easy access to the thermometer insert for up to three times faster and safer recalibration procedures. No rewiring is necessary, preventing errors and lowering risk of mechanical damage to the sensor. The assembly with bayonet mount is rated to IP69K, offering protection against high-pressure wash-downs.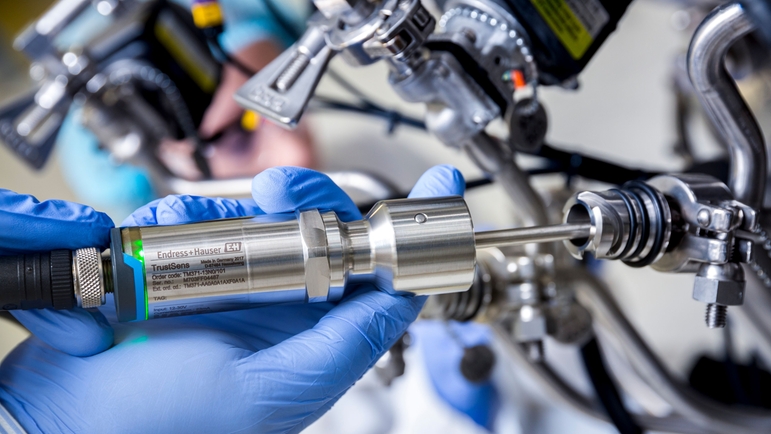 Prednosti
Speed up your manual temperature sensor recalibration procedures by up to 80%

No tools required

Avoid wiring errors during re-installation

Increase productivity with shorter maintenance downtimes

Hygienic design, IP69K rated neck mount for clean and safe operations
Taking the right turn
Our product finder helps you to search for suitable measuring devices, software or system components via product characteristics. Applicator leads you through an individual product selection via application parameters.
Periodic recalibration of temperature sensors ensures that the instruments work within spec. This operation however is time consuming and involves risks related to wiring. The divisible extension neck iTHERM QuickNeck enables tool-free removal of the insert for calibration purposes without process interruption. By turning the terminal head the insert can be removed from the protection tube and is ready for an on-site calibration. iTHERM QuickNeck is available with selected thermometers.
Izdelki
iTHERM TM411

Hygienic modular thermometer with QuickNeck technology
Enostavni produkti

Lahka izbira, vgradnja in uporaba
Tehnična odličnost
Preprostost
Standardni produkti

Zanesljivi, robustni, nezahtevni za vzdrževanje
Tehnična odličnost
Preprostost
Vrhunski produkti

Visoko funkcionalni in praktični
Tehnična odličnost
Preprostost
Specialni produkti

Zasnovani za posebej zahtevne aplikacije
Tehnična odličnost
Preprostost
FLEX izbira
Tehnična odličnost
Preprostost

Segment Fundamental

Zadostite svojim osnovnim merilnim potrebam

Tehnična odličnost

Preprostost

Segment Lean

Obvladajte ključne procese na preprost način

Tehnična odličnost

Preprostost

Segment Extended

Optimirajte procese z inovativnimi tehnologijami

Tehnična odličnost

Preprostost

Segment Xpert

Imejte pod nadzorom najzahtevnejše aplikacije

Tehnična odličnost

Preprostost