1-channel transmitter
Liquiline CM14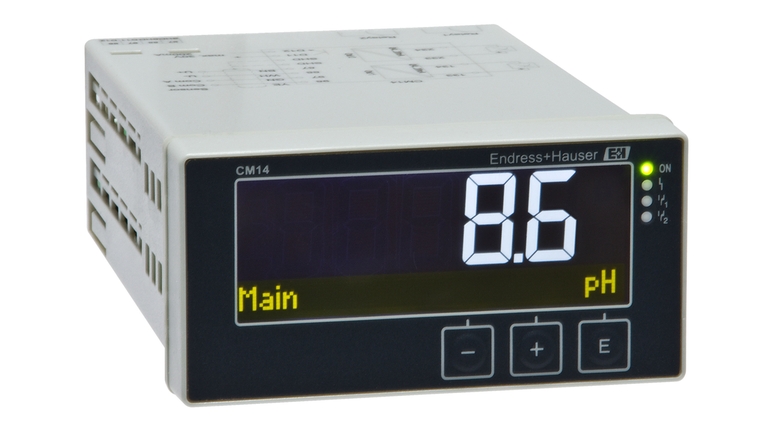 Compact panel device for the food, power, water and wastewater industries
Liquiline CM14 is a basic transmitter that offers all that you need to run a standard measuring point. It fits in the common cabinet cut-outs and is easy to commission thanks to Memosens digital technology. The Memosens hot plug and play concept allows you to quickly install and configure your digital pH/ORP, conductivity or dissolved oxygen sensors. Liquiline CM14 is compact, easy-to-operate, and cost efficient.
Enostavni produkti

Lahka izbira, vgradnja in uporaba
Tehnična odličnost
Preprostost
Standardni produkti

Zanesljivi, robustni, nezahtevni za vzdrževanje
Tehnična odličnost
Preprostost
Vrhunski produkti

Visoko funkcionalni in praktični
Tehnična odličnost
Preprostost
Specialni produkti

Zasnovani za posebej zahtevne aplikacije
Tehnična odličnost
Preprostost
FLEX izbira
Tehnična odličnost
Preprostost

Segment Fundamental

Zadostite svojim osnovnim merilnim potrebam

Tehnična odličnost

Preprostost

Segment Lean

Obvladajte ključne procese na preprost način

Tehnična odličnost

Preprostost

Segment Extended

Optimirajte procese z inovativnimi tehnologijami

Tehnična odličnost

Preprostost

Segment Xpert

Imejte pod nadzorom najzahtevnejše aplikacije

Tehnična odličnost

Preprostost
Lastnosti na dlani

Input

Output / communication

Ingres protection

Front IP65 , NEMA 4X, Body IP20
Loading alternative products
Hitra izbira
Izberite med predlaganimi možnostmi
Individualna konfiguracija
Nadaljujte z izbiranjem med vsemi možnostmi
Dodatne komponente

Prednosti

Saves space, saves money: Good price-performance ratio and small footprint – perfect for skids.

Easy to operate: Plug & play with pre-calibrated Memosens sensors.

Reliable and safe measurement: Memosens technology offers digital signal transmission and...
Področje uporabe

The Liquiline CM14 panel transmitter is suitable for all applications in non-hazardous areas, for example in these industries and their utilities:

Food & Beverages

Power & Energy

Water & Wastewater

Liquiline CM14 features the following protocols and...
Dokumenti / Priročniki / Softver
Pribor / Nadomestni deli
Št.

6

Kataloška koda

50078843

Terminal plug-in 3pol.for power supply

Ecograph/Memograph/S + Alphalog from unit No.410297XA RIA45, grey coloured connector

Št.

7

Kataloška koda

71037350

Terminal strip 4pole FMC1,5/4-ST-3,5

Memograph M for analog output (on digital I/O board) RIA45 for analog input non Ex (terminal x1,x2,x3,x4 + x5,x6,x7,x8)

Št.

9

Kataloška koda

71037408

Terminal strip 3 pole FKC2,5/3-ST-5,08

for relay 1 + 2 (two way)

Št.

8

Kataloška koda

71075062

Terminal strip 4pole space 3.81 non Ex

Terminal analog output 1 + status output (DI11,DI12,O15)

Št.

1

Kataloška koda

XPM0004-DA

Housing front + foil, incl. keyboard
Zgodbe o uspehu
Compliance made easy

The automated phosphate monitoring with Liquiline System CA80PH helps the food company Pasfrost ensure the compliance with the strict limit values for its industrial wastewater.
Water monitoring saves lives

Water is increasingly being considered a valuable product in most countries. Therefore, the acceptance for water wastage is continuously decreasing and the need to control the water quality is rising.