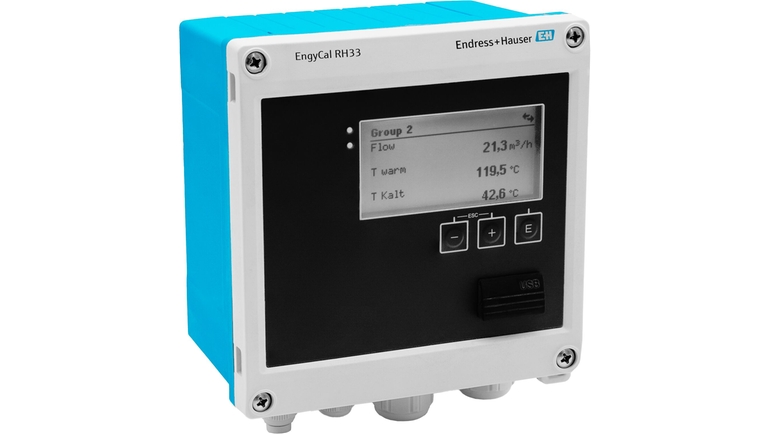 Custody transfer BTU meter for recording heat quantities of water
The BTU meter RH33 is used in applications with liquid energy carriers.
It calculates the thermal energy of water acc. to EN1434, glycol/water mixtures or other fluids such as thermal oils. Temperature sensor matching using calibrated temperature sensors is done in the device.
Potential for cost savings can be shown by using the software available as an accessory.
The device has a custody transfer approval and allows bi-directional measurement, e.g. charging/discharging of a heat accumulator.
Hitra izbira
Izberite med predlaganimi možnostmi
Individualna konfiguracija
Nadaljujte z izbiranjem med vsemi možnostmi
Prednosti

Transparent energy consumption helps you save on energy costs

Calibrated, electronically paired temperature sensors ensure the highest accuracy and enable replacement of individual temperature sensors even for certified devices in the field (without...
Področje uporabe

Recording and billing the quantities of heat and cold in:

Heating circuits

Cooling circuits

Combined heating and cooling circuits

Typical application areas in industry, long-distance heat networks and building automation.
Dokumenti / Priročniki / Softver
Pribor / Nadomestni deli
RH/RS/RA33 pipe mounting set

RH/RS/RA33 mounting set wall

Št.

5

Kataloška koda

XPR0001-SK

Cable entry set panel mounting: 4xM20, 2xM12, 1xM25

Terminal strip 3 pole FMC1,5/3-ST-3,5

for digital I/O and RS485

Št.

4

Kataloška koda

XPR0001-SP

Small parts set: hinge pin, pressure compensation element, USB-cover, seal panel

Št.

3

Kataloška koda

XPR0001-CP

Cover electronic internal for RH33 + RS33 incl. screws (for Mainboard + CPU card)

Št.

2

Kataloška koda

XPR0001-UT

Housing lower for Rx33 incl. counter plate (please order name plate separately with DIENST-T)

Št.

1

Kataloška koda

XPR0001-FH

Housing front RH33 incl. front foil

Št.

8

Kataloška koda

XPR0001-KA

Št.

8

Kataloška koda

XPR0001-KB

Communication board USB + Ethernet + ModBus TCP

Št.

8

Kataloška koda

XPR0001-KC

Communication board USB + ModBus RTU (RS485)

Št.

8

Kataloška koda

XPR0001-KD

Communication board USB + MBus (for RH33 and RS33)

Št.

7

Kataloška koda

XPR0002-

CPU board Rx33, XPR0002

incl. LCD + flat ribbon cable

Field Data Manager Software MS20

Visualization software and database for visualization of historical data like measured values, calibration or configuration. Manipulation protected SQL database, graphical visualization, tables for measured values, alarms or events, online help, user administration, Automatic read out of device data. Automatic data export in various formats or in secured format for backup or reduction of database. Note: The version FDM essential only supports RSG30, RSG35, RSG40 as well as RSG45 and has a restricted functionality.

RTD Thermometer TR10

to screw in. Thermowell acc. DIN 43772/2G+3G. Replaceable insert, MgO. max.measuring range: -200...+600oC. (depending on configuration).

Insert TPR100

Mineral insulated cable (MgO). Replaceable insert acc.EN60751. max. measuring range: -200...600oC (depending on configuration).